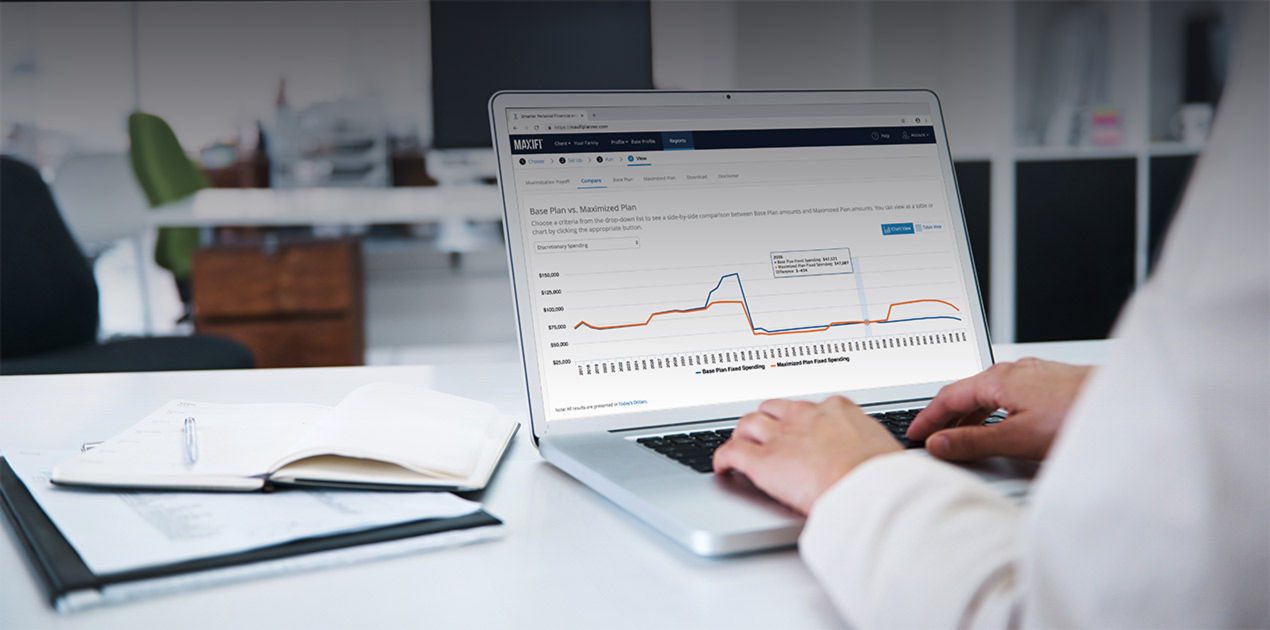 Smarter financial decisions begin with smarter software
Other financial planning programs ask you to guess: How much do you need for a secure financial future?
MaxiFi software ends the guesswork.
It's the only software powerful and accurate enough to calculate your highest sustainable living standard — starting today — with a plan to maintain and raise that amount — for life.
Peace of Mind
MaxiFi analyzes your financial future. It calculates a spending, saving and insurance plan to maintain and protect your living standard for life.
More Money
MaxiFi can raise your lifetime spending by tens to hundreds of thousands of dollars by optimizing Social Security, lowering lifetime taxes, and more.
Smarter Decisions
Changing jobs? Moving homes? Planning retirement? See how big decisions impact your living standard––now and for the rest of your life.
Secure Your Financial Future with Patented State-of-the-Art Software
MaxiFi software — the most powerful personal financial planning engine
Step 1

Plan for a Lifetime

Conventional financial planning products use simplistic, outdated "rules of thumb" to "guesstimate" income needs in retirement. They don't calculate what you can afford to spend every year over the course of your life. We do.

MaxiFi analyzes your current and future finances using powerful, patented algorithms developed by acclaimed economist Laurence Kotlikoff.

We consider earnings, assets, retirement accounts, taxes, Social Security, housing, and other fixed spending to calculate annual discretionary spending budgets that preserve your living standard.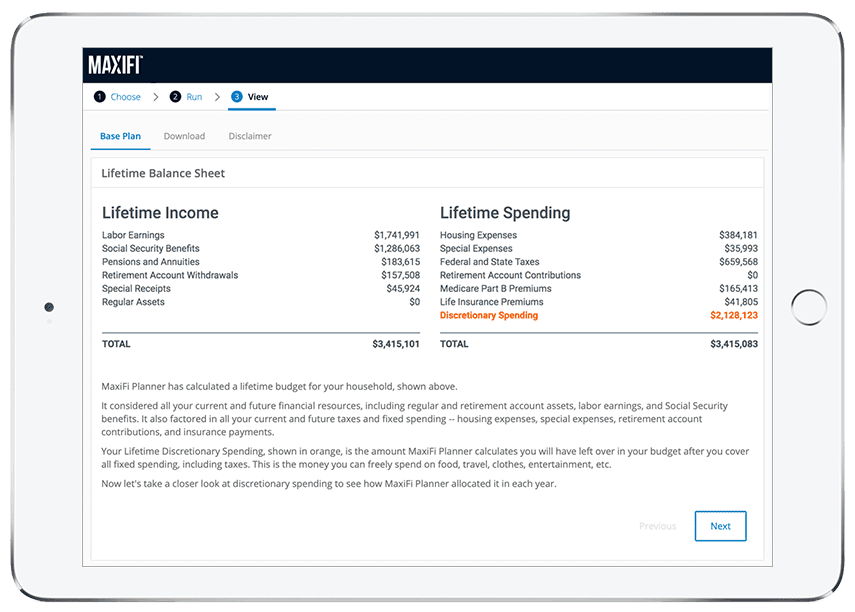 Step 2

Find More Money

MaxiFi's optimization engine runs thousands of scenarios to find safe ways to improve your standard of living by:
Maximizing Social Security benefits—determining which benefits to take and when
Calculating a tax-efficient retirement withdrawal plan
Optimizing use of Roth versus Non-Roth accounts
Showing gains from additional retirement account contributions
Stretching retirement income via inflation-protected annuities
These changes can mean tens to hundreds of thousands of extra dollars in lifetime spending.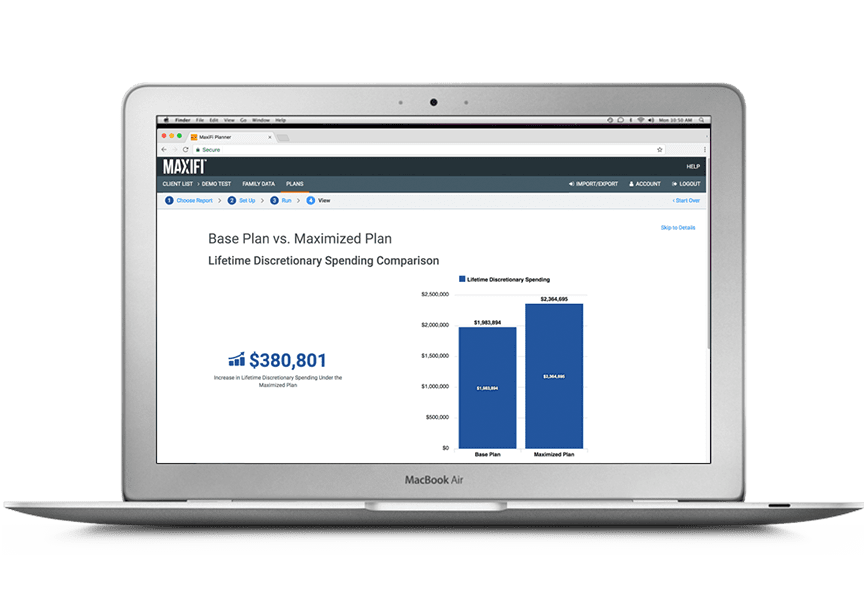 Step 3

Make Smarter Decisions

Take the guesswork out of financial decisions at every stage of life––whether you are just starting out, building a family, considering when to retire or wanting to stretch your retirement dollars further.

Run unlimited "What-If" scenarios to see how different decisions impact your overall financial plan and sustainable standard of living.

Clear charts of annual lifetime income, fixed and discretionary spending, taxes, Social Security benefits, and insurance let you dig into the details.

Read our Case Studies about using MaxiFi to make smarter decisions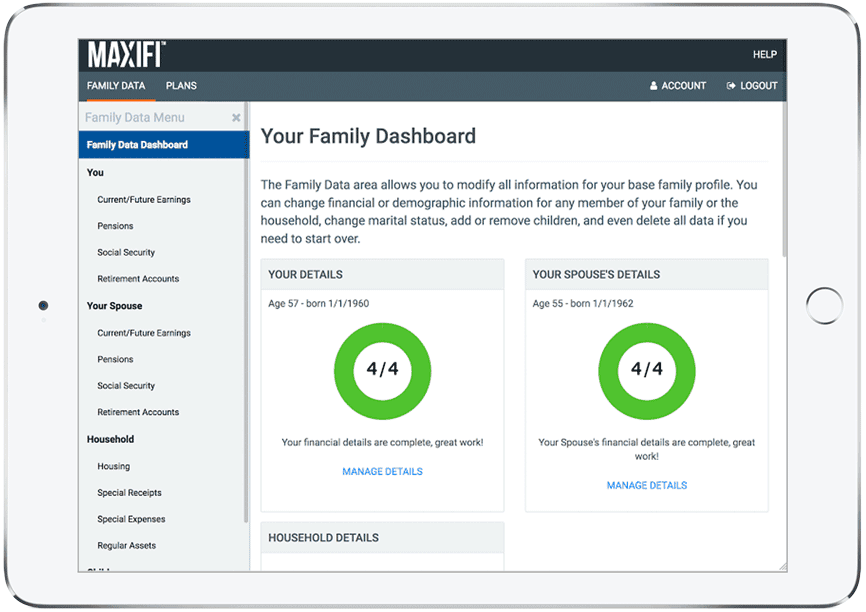 Time Tested Over 20 Years
Developed by one of the world's leading economists, Laurence Kotlikoff, our software has been powering personal financial plans for 20 + years.
Learn More
We Only Sell Software
We don't sell or advertise financial products or provide your data to anyone. Our only goal is helping you make better, more accurate, and more informed personal financial decisions.
Learn More
Your Data is Secure
Bank-level security and industry best practices secure your data. MaxiFi software doesn't require Social Security numbers or other personally identifiable information.
Learn More
Easy to Use
MaxiFi is web based and works on all devices. User tips are included throughout the software and our knowledgeable customer support team is ready to help.
Learn More
MaxiFi software — the most powerful personal financial planning engine